I wanted to share one of my favorite organizations with you today. Operation Freedom Paws' mission is to train "veterans and others with disabilities to train their own service dogs.  We leverage the ability of the canine-human relationship to help our clients regain their sense of purpose, worth and value to society and their community."
Post Traumatic Stress Disorder (PTSD) is one of my research interests, albeit not one of the primary ones. That interest developed in part because my sister and brother-in-law are both career military officers who have been deployed multiple times. They have ensured that my feminist understanding of the military remains complicated and multi-dimensional, encapsulating both analysis and empathy. I appreciate that about both of them so much.
Operation Freedom Paws rescues shelter dogs and matches them with individuals who have some variation of PTSD, traumatic brain injury, or other "physical, neurological, psychological or mobility needs." They're most well known for their work with veterans. As the video below shows, there's a huge need for what they do in that population.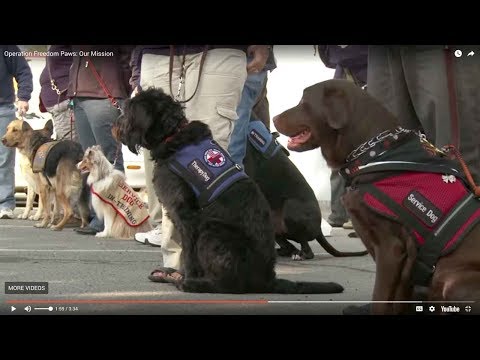 Two personal events motivated me to share this organization with you today. The first is some good news. My brother-in-law is getting his second selection promotion this coming summer and will soon be a Lieutenant Colonel. He's one of my favorite people in the world, and I'm so very proud of him.
The other event is more on the tragic side. My youngest cat, Xander, passed away unexpectedly this past weekend, and I am missing him quite a bit right now. I know the difference an animal's love and companionship can make in a person's life, and I only wish there were more organizations matching abandoned animals with bereft people. It's one of the most fulfilling missions I can imagine.
You can learn how to support Operation Freedom Paws by clicking here. I hope you do.
{ 0 comments }